A Movie Review by Magdalen Aithne Arkwright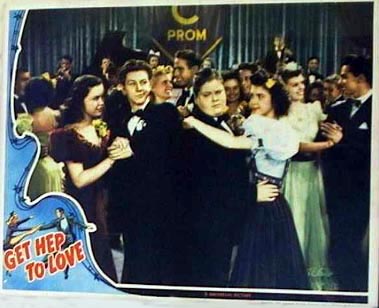 What do you do when you're a child prodigy and sing continuously without break? Run away of course! And that's exactly what Doris Stanley (Gloria Jean) does in the 1942 film 'Get Hep To Love'.
Poor Doris has been a child prodigy for years. Even now, going on fifteen, her aunt buys little-girl clothes and keeps presenting her as a kid to get more money. Once again, Aunt Addie goes back on her promise to give Doris a vacation, so Doris runs off to Connecticut.
She doesn't make it far - she's a juvenile. At an orphanage, she swipes a card with an address on it and goes to their place, masquerading as an orphan. For the first time, she attends a high school, makes friends, and falls in love with a boy - Jimmy Arnold (Donald O'Connor). But Jimmy has a crush on slippery Elaine.
Doris is a valuable jewel, and there's a reward out for her. How long will it be before her music appreciation teacher and her foster parents find out about her? And can she convince Jimmy that Elaine is just using him?
This fairly fast-paced movie has a fun plot, complete with songs and dancing, and is both amusing and romantic, as far as teenager love stories go. This movie has ten points out of ten, with an A rating (see sidebar), and comes with my recommendation.
~Meggy